Our Vision and Values
As a church school, we have a vision rooted in the Bible. This is taken from the passage Matthew 7:7
"Ask and it will be given to you; seek and you will find; knock and the door will be opened to you. For everyone who asks receives; the one who seeks finds; and to the one who knocks, the door will be opened."
We have 5 Values that we focus on in school. These are: Respect, Kindness, Forgiveness, Patience and Honesty. These are taught through assemblies and in P.S.H.E. We endeavor to live by these and to have conversations with the children linked to these, when we are talking about behaviour. Our children know these values and try hard to demonstrate them every day.
At our school, we have also developed Promises.
Parents, Governors, staff and children developed the following promises. The leadership of the school use the promises to guide us when making decisions. We only recruit new staff who share our commitment to the promises.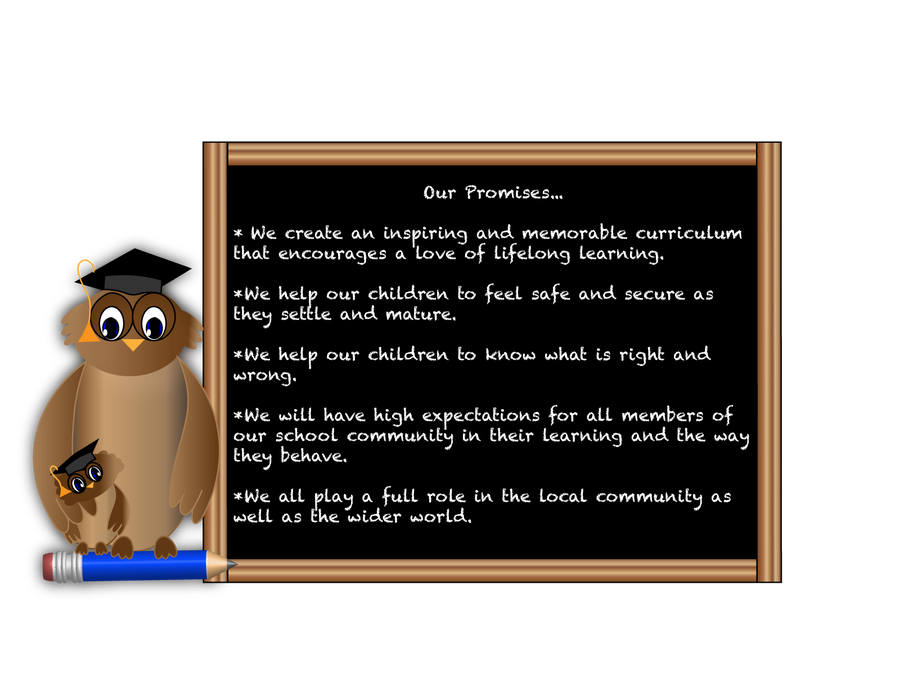 Our visions for each area of Learning
English
Our vision for literacy is that…
In reading children will be immersed in inspiring books which support the whole curriculum.
Our children will develop high standards of oracy and a wide ranging vocabulary through a language rich environment including storytelling and theatre.
Through a comprehensive core strength programme our children will develop the physical abilities needed to write.
Our PE programme will help children to be fit for learning and fit for life.
In writing children will take pride in their presentation and be confident in spelling and use of grammar and punctuation. Inspired by their exposure to high quality books and from the language rich environment, children will enjoy writing high quality pieces in a range of genres.
Maths
Our vision for maths is for all children…
To be given opportunities to apply their fluency in reasoning and problem solving (both routine and non-routine problems)

To be given the opportunity to use and apply their math skills across the curriculum and in real life contexts

Through the use of concrete, pictorial and abstract representations, children will make good progress regardless of starting points
This vision will lead to confident, motivated learners who enjoy maths.
Expressive Arts and Design
Our vision for art and design is for all children…
To work with a professional artist or designer every year

To have opportunities to immerse themselves in the work of a range of creative professions and learn about famous pieces of art and music

To have opportunities to use a range of media, materials and techniques to develop their creative skills

To learn a musical instrument
Understanding the World
Our vision for pupils' learning in Understanding the World will be delivered through internal and external opportunities:
Internally we will provide pupils with a variety of nurturing opportunities based around real-life experiences, for example, gardening, experiments, the use of technology and cooking and interesting visitors.
Externally we will take children on an exciting programme of trips which will underpin the curriculum.
Through both internal and external events we will provide opportunities for children to experience different cultures, celebrate differences and understand what we all have in common.
Personal, Social and Emotional Development
Our vision for children's Personal, Social and Emotional Development is to…
Equip children with the wide ranging and rich vocabulary needed to enable them to express themselves effectively

Develop children as confident and resilient learners with a growth mindset

Help children to keep themselves safe and look after their well-being